Under the header Settings, there is a menu named General. In that menu, you can find the function Scheduled jobs.
You can use this function to schedule recurring events in Younium, for example, to send invoice reminders, auto-renew orders, or synchronize with another system.
Schedule job: If you want to create a new job.
End job: If you want to end an existing job.
Pause: If you want to pause a recurring job.
Resume: If you want to resume a paused job.
Delete: If you want to delete an ended job.
Refresh: Refresh the page to see new updated jobs.

Job: Choose what job you want to schedule from the drop-down menu.
Description: Describe the job.
Start: Type in the date and the time when you want the job to start.
Is recurring: This option will make the job recurring and two new fields to show up. These two fields allow you to choose how often you want the job to be done:
Repeat every: Choose a number for how often you want the job to be done. The number together with the repeat interval will set the interval for the job.
Repeat interval: Choose between Minute - Hour - Day - Week - Month - Year
For example, every day:
Repeat every: 1
Repeat interval: Day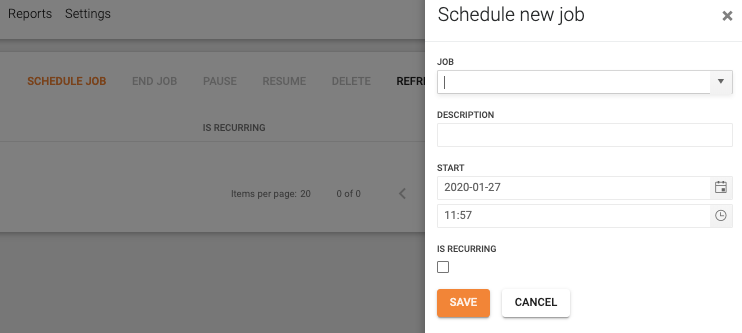 Press Save
When you have scheduled jobs they will show in a list under Scheduled Jobs.
To see more information about a job, click on the name.