This article describes the standard integration Younium and Dynamics BC.
Establishing the integration
Integration with BC is done with Web service access key authentication and OData web service calls.
Prerequisites in Dynamics BC:
A service user in BC with Web service access key configured
The following OData endpoints must be available:

PaymentTerm

Currency

ChartOfAccount

CustomerCard

Item

GeneralLedgerSetup

CurrencyExchangeRate

Dimension

DimensionValue

SalesInvoice

SalesCreditMemo

InvoiceLine

InvoiceCreditLine
Invoice fields that needs to be added to page 43 and 44
Sell_to_Customer_No
Bill_to_Customer_No
Make sure these fields are available:
WorkDescription (page 44)
Document No. (page 96)
Line No. (page 96)
Step-by-step guide to enable the integration:
Log in to Younium with an administrator account

Go to "Settings" > "Integration" > "Dynamics 365 Business Central"

Click "Get started"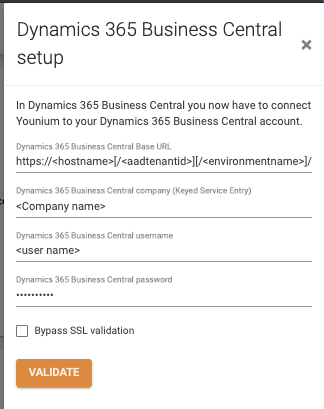 Enter the following details:
Base URL: https://<hostname>/<aadtenantid>/<environmentname>/ODataV4/
Company: <Company Name in BC>
Username: <BC user name for service user>
Password: <We service access key>
Upon successful authentication your will get a confirmation and the integration is active
Synchronisation of Master data
With an active integration, the following master data can be synchronised from BC to Younium:
Invoice postings
When an invoice is posted in Younium it automatically creates a Sales invoice (or credit memo) in BC.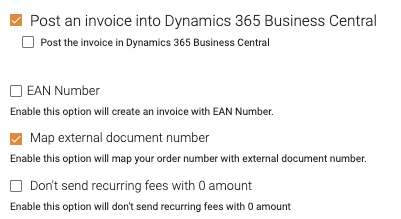 Available settings:
"Post and invoice into Dynamics 365 Business Central" - Enables the invoice postings, if this is not checked, invoice creation in BC is not enabled.
"EAN Number" - Maps a field "EAN number" on Younium Order header to OIOUBL_GLN field on Invoice in BC
"Map external document number" - Maps "Your order number" on Younium Order header to "External document number" on Invoice in BC
"Don't send recurring fees with 0 amount" - This will remove any invoice lines with 0 (zero) amount in the invoice creation to BC.
Deferral codes
It is possible to map the invoice lines in Younium to deferral codes in BC. There is a field Deferral code on charge, order charge and invoice line in Younium for this configuration.